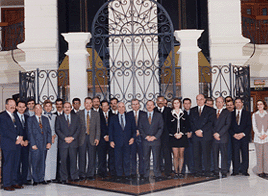 | | |
| --- | --- |
| Nicosia, Cyprus 1998, Annual Budget meeting | |
Khalid Shoman started contacting international consulting firms as far back as the early eighties, when the concept of long term strategic planning was alien to most Arab institutions. He became convinced that for this vital undertaking, the Arab Bank had to draw up its own strategic plan, using the expertise of qualified officers from its own workforce who are better equipped and more informed regarding the Bank, its culture, its strengths and its weaknesses.
In 1991, Khalid asked an international consulting firm to organize a seminar in strategic planning for the regional heads of the Arab Bank around the world. As a result, a number of regional managers of the Bank started adopting strategic planning in their areas.