In memory of Khalid Shoman,
his wife and children have
established the Khalid Shoman
Foundation which will pursue his
vision of a future renaissance in
the Arab world. Khalid Shoman
has been, for the past ten years,
the patron of Darat al Funun.
Now under the umbrella of the
Khalid Shoman Foundation, Darat
al Funun will intensify its mission,
spreading awareness in the fields
of the Arts, Architecture and
Archaeology.The Khalid Shoman
Foundation aims at being a haven
for knowledge and progress,
dedicated to the moral values
which Khalid Shoman upheld
throughout his life.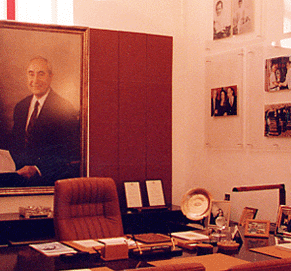 The office of Khalid Shoman at "Dar Khalid"