From reverence in front of Suha Shoman's installation to respect for the businessman and the banker, the onlooker will be also torn between sadness, felt as one's own, and elation, while witnessing the happy mementos and being allowed to share in the words of wisdom left by a man who also left an indelible mark on life and on those who knew him.
The man who automated the Arab Bank, in his capacity as deputy chairman and president, who led it towards progress, modernization and continuous success, is rightfully given ample space at the exhibition.
The media used are innovative, the language is that of corporate design. Nine glass information panels focus on specific areas of activity of Khalid Shoman, a leader of the huge financial institution his father Abdul Hameed Shoman Founded in 1931 in Palestine.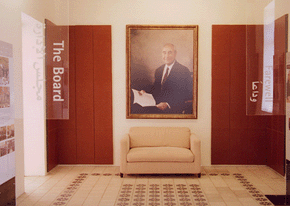 Large headlines applied on Plexiglas dividers hang from the ceiling, giving the space a distinct typographic character. Breaking the rhythm of panels and dividers, an Internet booth enables visitors to browse the Shoman website and leave electronic guestbook entries. The walls are treated as informational surfaces on which quotes form Khalid Shoman's speeches and annual report messages are applied.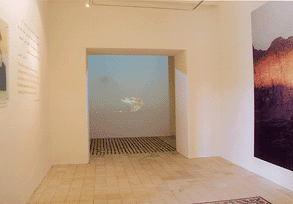 The atmosphere is business like, but it is also highly charged with human qualities of leadership, vision, care for co-workers and the ever-pervading warmth emanating from the man's demeanour.
Contrasting yet complementing the "business" world is the spiritual room, a sparsely decorated space weighing heavily on the viewer's soul. Incorporating high-tech elements in this spiritual space is attributed to Suha Shoman. Unique footage of natural phenomena captured on digital camera is projected, enlarged, on the facing wall of the "shrine". Leading to the images are rows of pebbles lined like soldiers, like huge photo resolution points or like rosary beads (depending on how one looks at things, but all the more intriguing in their capacity to unify the whole concept of the classic/modern exhibition). Somehow reminiscent of a ritualistic worshipping altar, the soothing, parallel lines (or maybe lives or lanes), mineral stippling that contrasts with the amorphous clouds and mountainridges of the images projected, manage, at the same time, to calm and bring some order to the soul stirred by the assailing images.
The imagery, taken from the family's Petra house by Suha Shoman, is a work of art in itself. Sun and clouds (isn't life made up of both?) are intertwined.Clouds chase one after another, the sun appears from behind them; the ridges of Petra mountains are reflected ruggedly against the horizon. The whole multimedia projection is a continuous showing of life's cycle from sunrise to sunset, an appropriate parallel to the life of the man commemorated.
A quote from Marcus Aurelius: "Pass then through this moment in time in harmony with nature, and enjoy your journey in content, as an olive falls when it is ripe, blessing nature who produced it, and thanking the tree on which it grew," accompanies the photo of Khalid Shoman standing atop a mountain range (in Petra, where else) and the picture of a pensive young Khalid reflecting, perhaps, on the meaning of life and the fate reserved mankind. A magnified frame of yet another Petra ridge, red and gold, aglow in the light of a rising sun, offers the hope of another born life. The installation, contemporary abstract high-tech contribution to a moment of tribute to a life passed, inspires awe but also suggests a place where life prevails.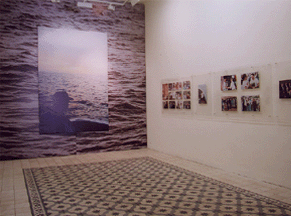 The middle bay offers a glimpse into the personal life of Khalid Shoman, the family man and friend. Casually smiling in a group of friends or officials, a relaxed, contented man exudes warmth and confidence. Giving a piggy back ride to his daughter Aisha, draping his son Omar's shoulders, flying a plane or having leis around his neck, father and husband Khalid Shoman can always be seen hugging, holding, smiling, affectionate and human.
In front of a prize marlin or serenely fishing, his biggest hobby, the images are those of a man full of life and generously giving of himself to those around.
By the door, a frame of Khalid Shoman profiled against a background of vaulted entryways symbolically suggests his entry in life. After the exhilarating frames revealing life lived to its fullest, the facing wall suddenly stops all movement. A magnified picture of the man on one of his last boat trips, set against the background of a vast sea and a remote, dark horizon, hints to other, more remote horizons and vaster seas where his soul must be keeping watch over his loved ones. A personal, painful exhibition, through novel technical, artistic and personal approach, became an uplifting experience, an inspiring lesson about life, values, qualities and moral strength.
by Ica Wahbeh